Doggy Delicacies: How to Make Healthy Dog Treats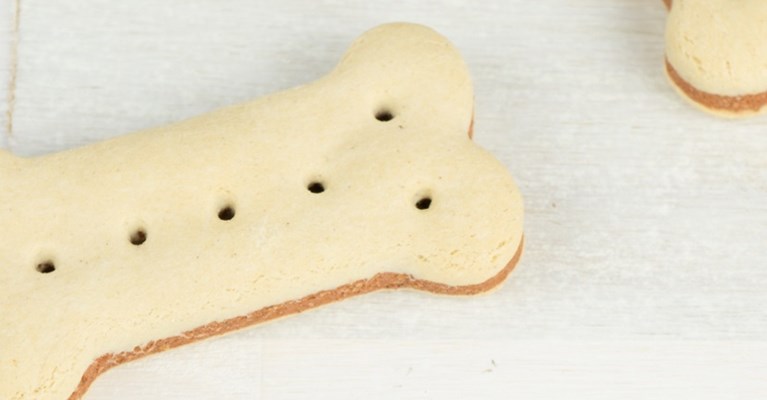 For years, dog has been a man's best friend, and we're forever showering them with love and affection. And it turns out, our love doesn't just stop at cuddles and companionship. As part of our 'On Your Marks, Get Set, Bark!' campaign, we conducted a study to find out just how much we care about what we're feeding our four-legged friends, which showed that over 60% of dog owners put health and nutritional benefits first when purchasing dog food.
As a nation we want our furry-friends to have a healthy diet, yet 87% of owners don't make their own healthy dog treats at home! So, with the festive season upon us, now is the perfect time to get your aprons on and start baking your own! We've teamed up with Ciara, a leading UK food blogger from My Fussy Eater, to show how easy it is to make your own dog treats at home!
My Fussy Eater's Peanut Butter Dog Treats


For many of us, peanut butter is a staple part of our diets, and it turns out, plenty of dogs love it too! As well as being extremely tasty, it's also a great source of protein, and includes healthy fats, vitamin B and vitamin E. When buying peanut butter for your pooch, make sure it doesn't contain the sweetener xylitol, as this can be toxic to dogs. Most peanut butter doesn't include this, but it's always important to check the label beforehand.
Ingredients:
• 300g wholemeal flour
• 1 tsp baking powder
• 250g peanut butter
• 150ml water
• 1 egg
• 2 tbsp honey
• a little plain flour for dusting


Method:
• Preheat the oven to 180c and line 2 or 3 baking trays with parchment paper.
• In a large bowl add the wholemeal flour, baking powder, peanut butter and water and mix well with a spoon.
• Add in the egg and honey and mix again.
• Dust a worksurface with a little of the plain flour and roll the dough out to about 1/4 inch thick.
• Use a cookie cutter to cut out the shapes and place on the lined trays.
• Once the trays have been filled bake in the oven for 12-14 minutes until golden brown.
• Allow to cool for a few minutes on the trays before transferring to a wire rack to cool completely.
Video sourced from My Fussy Eater
If these delicious peanut butter dog treats have inspired you to bake for your pooch, then there are plenty more easy and healthy recipes below!
Strawberry and Banana Doggy Ice Cream


During the summer months, both kids and adults alike love to cool down with a tub of delicious ice cream. Now your four-legged friend can enjoy a frozen treat too! Dogs can't eat ice cream for humans as the sugar content is too high, but there are many recipes that are safe and scrumptious for you pooch. One recipe which will refresh them during hot weather is strawberry and banana ice cream, made using natural ingredients. Strawberries can even help to whiten your dog's teeth too!


Ingredients:
• 10 fresh strawberries – don't use canned or strawberries in syrup
• 1 banana
• 1 cup of natural, plain yogurt (no sweetener or flavour)


Method:
• Mash the strawberries into very small pieces
• Add in the banana and mash together
• Stir in the yoghurt, thoroughly mixing all the ingredients together
• Pour the mixture into a freezer-friendly container and freeze for a minimum of 4 hours – preferably overnight (this will keep for up to 8 weeks)
Video sourced from Gemma Stafford
Sweet Potato Chew Toy


Sweet potatoes have many health benefits for humans, and they're also great for dogs. They're packed full of amino acids, helping to maintain healthy and strong muscles. They're also really high in fibre, meaning they're fantastic for the digestive system. These DIY sweet potato chew sticks are healthy, and will keep you pooch entertained for hours.


Ingredients:
• One large sweet potato
• Natural hemp rope


Method:
• Wash the sweet potato thoroughly
• Slice it into 1cm-thick round pieces
• Remove the centre of each slice, making sure the hole is wide enough for the rope to fit through. A top tip is to use an apple corer or cookie cutter
• Bake at 100°c for about 5 hours (if you have a dehydrator, dehydrate over night at 80°c)
• Tie a knot at the end of the rope and put the sweet potato rings onto the string. Finish by tying a knot at the other end
Video sourced from Elmo's Kitchen
Basic Dog Biscuits


If your pooch is a fussy eater and doesn't like to try new things, there are plenty of basic dog treats you can bake too. This way, you can include your dog's favourite ingredients whilst also making sure they're healthier than many shop-bought treats. Bone-shaped moulds like the ones used in My Fussy Eater's video above are great ways to trick your pooch into not even knowing the difference! One of the best things about this recipe is that you'll probably have the majority of the ingredients hiding away in your cupboards already.


Ingredients:
• 650g of wheat flour – you can use white flour or oats if your dog is sensitive to wheat
• 1 egg
• 1 teaspoon of beef or vegetable gravy granules
• 120ml hot water
• Optional: cheese and bacon in moderation


Method:
• Preheat oven to 180°c
• Dissolve gravy granules in the hot water, then pour this into a mixing bowl
• Add the flour, egg, and any of the other optional ingredients, and mix well
• Knead the dough until it forms a ball, then roll it out until it's about 0.5 inches thick
• Cut into slices, or use your shaped mould, to make your chosen shaped biscuits, then place on a baking tray lined with greaseproof paper
• Bake for 30 minutes, or until golden, then leave to cool before your dog can enjoy them


Before making any tasty treats for your four-legged friend, consider any allergies or dislikes that they may have. Food allergies and intolerances are quite common, and can make feeding your dog very expensive when you're discovering what they're allergic to. If you're considering making your own treats, always check you're using dog-friendly ingredients, as some foods can be toxic to pets. If you take out pet insurance, you may be covered when it comes to vet fees should your pet come across any allergies. Here at Asda Money we have a range of pet insurance cover types available. Find out more about Asda Money Pet Insurance here. Pre-existing medical conditions are not covered.