How to choose dog day care
If you've decided to send your dog to day care while working or away, you may be wondering how to choose the best dog day care facility for your pup.
To help you understand what to look out for and what you need to know, take a look at our doggie day care checklist.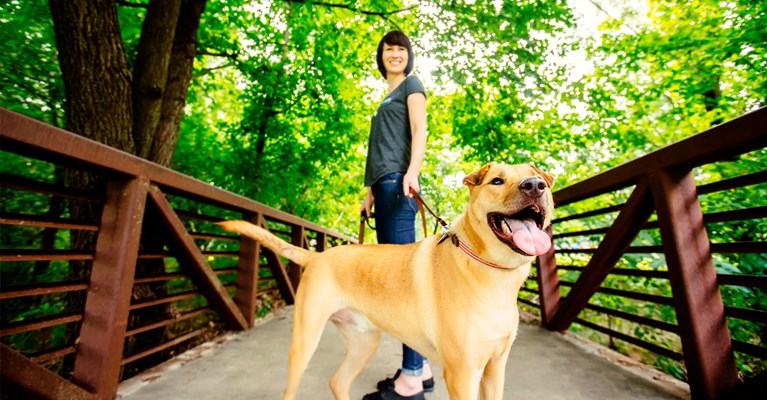 What is dog day care?
Dog day care is a service offered to dog owners and provides a place for dogs to go to when owners are at work or away.  
Dog day care can give owners peace of mind that whilst they're away, their pup will be cared for, fed, and able to play and socialise with other dogs.
Some facilities will only open during daytime hours, whereas others may offer overnight stays.  
Most doggy day care facilities will also only take dogs from 12 weeks old, so it's important to bear this in mind when considering whether dog day care is suitable for you and your pooch.
How to choose dog day care
Do your research
Before you visit a dog day care facility, be sure to do your research. Use the internet to search for day cares in your local area, read up on what services they offer and their hours, and check out the reviews left by fellow dog owners. This will give you a better idea of which facilities are worth visiting to help narrow your search.
Make a visit
Before you choose a day care facility for your dog, be sure to go and visit it in person. Even if it looks great online and has positive reviews, you need to check it out for yourself to ensure it's clean, safe, well-staffed, and a good fit for you and your pet. If your pooch seems calm or excited when you take them for a visit, that's a good sign they might like it there!
Check for certifications and qualifications
Just like you would check certifications and qualifications when choosing a vet, the same checks need to be made when selecting a dog day care. You want to be sure that you are leaving your dog in good hands, so look for registered and licensed dog day care facilities with fully trained and qualified staff.
Talk to people
If any of your family, friends or colleagues have dogs, ask them if they have ever used dog day care facilities. Getting personal recommendations from people you trust can help you decide which facilities may be suitable for your dog. You could also ask your vet if they know the best dog day cares in your locality, as they tend to have good knowledge of this.
Enquire about services
Always ask questions and enquire about the services each facility provides. For example, ask if they have an emergency plan in place, enquire about their cleaning practices and safety procedures, staffing levels, and whether they have access to a vet if your dog ever gets hurt or becomes poorly whilst in their care.
How can I prepare my dog for day care?
Once you've picked the perfect day care facility, it's time to prepare your pooch for spending time there.
Well-trained dogs who have been socialised often find it easier to adjust to doggy day care as they're already used to spending time with other dogs.
If your dog isn't used to spending time away from you, ask the day care facility if they would be willing to let you take your dog for a visit for an hour or two a couple of days a week to help them get used to it.
Make sure your pooch always has the correct identification on them, such as their collar and ID tags, in case they were to go missing.
Remember to pack their favourite toy for them to play with at day care – having something familiar will help comfort them if they feel anxious.
Whilst they will usually be fed at day care, it could be a good idea to feed them beforehand, so they feel happy and content when arriving. Just be sure to let the day care staff know they've already eaten!
To ensure your pooch's health is always in good hands, take a look at the pet insurance policies available here at Asda Money.