How to Choose the Right Bed for Your Pet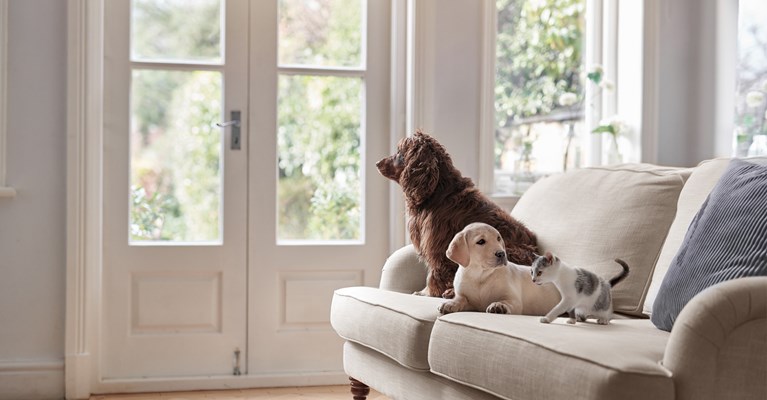 All pets need beds for their relaxation and sleep time. Choosing the right bed for your pet is quite an important task – you want to make sure that you pick what will be the perfect little safe haven for them to relax and unwind in. So, to ensure that you choose the perfect bed for your pet, there's a couple of things you should keep in mind before making your purchase.
From picking out the right material your pet will love and feel comfortable on to marking out the ideal spot in your home to place their bed, there are quite a few things you'll have to think about when buying a bed for your furry companion/s.
Take note of your pets weight and measurements before you buy their bed – this is one of the most important steps to take before buying a pet bed as it will need to be the right size for them and should allow them to both curl up and sprawl out comfortably.
Materials to choose from when it comes to finding the most comfortable bed for your pet include breathable and natural fabrics such as wool and cotton. It's also important to pick a bed with the right amount of thickness and padding, which will depend on the specific breed of your pet, their weight etc. and what exactly they'd be comfortable with.
Placement is another essential factor that you should put some thought into – finding the perfect comfortable bed is the first step but finding the right spot in your home for it is also key to providing your pet with the best possible place and environment to relax in after a long day of running around being active and social.
There are many kinds of pet beds that are available and will depend on the specific needs and requirements of each individual pet. For example, if your pet is the kind to go swimming regularly or likes to get wet and muddy often, a waterproof bed will be the best option. On the other hand, if you have an older pet who may have conditions such as arthritis for example, an orthopaedic bed is a great option due to the thick padding and memory foam they can come with. There are also other options such as heated beds or box beds, so pick the one you believe your pet will like best.
Consider the cost of your pets bed too, and aim to find something that is not only perfect for your pet but is also within your personal budget too.
Finally, your pets safety is the most important thing and so be sure to find a bed that will keep them safe and secure at all time and will give them a place to snooze and rest without the risk of injury or accidents. To be on the safe side, invest in a pet insurance policy that will cover you for any accident that may take place big or small. Here at Asda Money, we offer various different pet insurance policies that you can choose from based on what you and your pet will benefit from most.