How to Dog Proof Your Christmas Tree
Christmas trees are a wonderful way to spread the festive cheer – but they can pose safety risks for your dog. Here's what you need to know.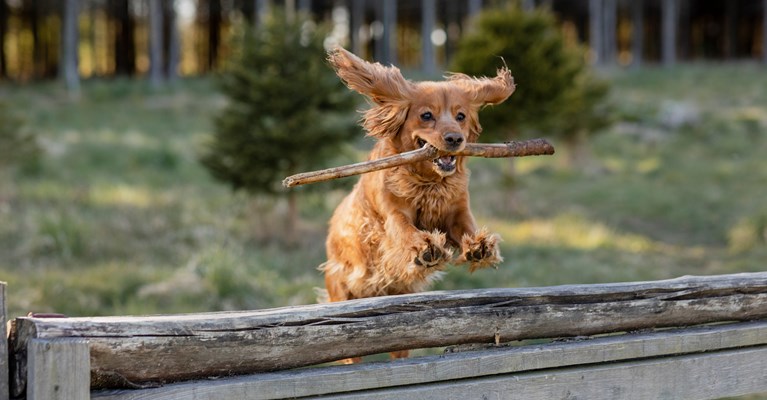 There's nothing quite like the tradition of putting up your Christmas tree surrounded by your loved ones. The satisfaction of completing all the decorating and sitting back to admire your work as you take in the dazzling lights and sparkly décor is second to none – and we bet your dogs are in awe of it too.
Your twinkling Christmas tree is sure to catch your pup's attention – so how can you ensure it's safe for them? We've put together some of our top tips on how to dog proof your Christmas tree and keep your dog safe.
Tips to dog proof your Christmas tree
Consider an artificial tree
An artificial tree may be a safer option for you and your furry friend. The pine needles on real trees can be extremely harmful to your dog if they chew on them and accidentally swallow them. They could end up with cuts to their mouth, throat, or paws and problems with their stomach, so to help prevent these kinds of injuries, an artificial tree may be the better option.
Hang fragile ornaments out of reach
If you're hanging up fancy, sparkly ornaments, your dog will most likely be intrigued by them and want to play with them. They may even accidentally knock them off your tree with their wagging tail if they're placed on lower branches, so to prevent this from happening, keep your more precious ornaments on higher tree branches where they are completely out of reach for your dog.
Cover cords and wires
Be very careful with electrical cords and wires around your Christmas tree – the last thing you want is for your dog to be able to sink his teeth into them and chew them up. Keep them hidden away or safely secured or buy some covers for your cords to prevent your dog from getting into them.
Put the gifts under the tree at the last possible minute
Dogs are curious little creatures – so if you pile gifts wrapped in shiny wrapping paper under your Christmas tree, they'll likely want to play with the packages. Keep presents safely hidden away and only put them under the tree on Christmas morning.
Make your tree sturdy and stable
Regardless of what kind of tree you are using, make sure it's as secure as possible. The last thing you want is for your dog to crash into it and topple it over. You could secure it to a wall or the ceiling to ensure it doesn't fall or use a wide and sturdy base so that it stays firmly in place throughout the festive period.
What Christmas decorations are unsafe for my dog?
Ornaments: Many decorations– specifically homemade ones – can contain substances that are harmful to dogs, such as salt dough or batteries. Ornaments look like toys to our pups, so they may get their teeth into them and swallow them, which can cause all sorts of problems.
Tree lights: Twinkling lights are sure to grab your dog's attention, but if they were to chew them, it could cause an electric shock. Be sure to keep your Christmas lights out of reach and the cables safely hidden deep amongst the tree branches.
Tinsel: It's hard to resist playing with sparkly decorations like tinsel, but it can be dangerous for dogs if they swallow bits of it, as it could wrap around their intestines and cause serious damage.
Edible garlands: Edible garlands containing popcorn or cranberries are definitely going to catch your dog's eye, and they may attempt to grab them which could lead to them swallowing the string.
Snow spray: Spraying fake snow is a great way to capture that Christmassy feeling but keep your dog away from it or avoid it altogether if you can, as it can be toxic for your pup if they eat it.