Top 5 Dog Walking Hotspots in the UK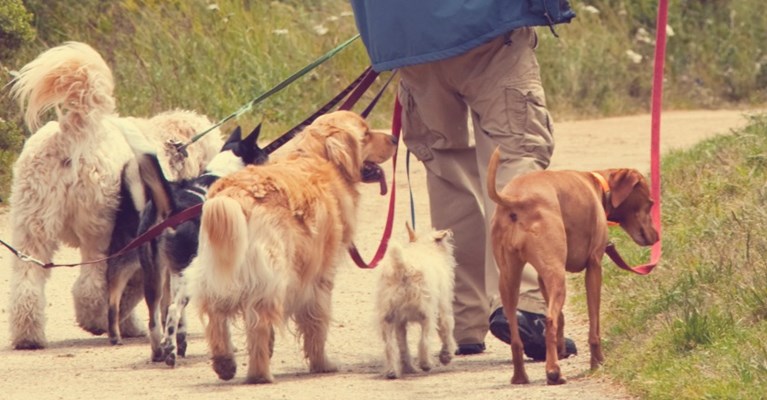 Dogs love to explore new environments, and there are so many places around the UK that are well worth sniffing out. From wonderful woodlands and mysterious forests, to beautiful beaches and dramatic coastlines, the UK is filled with an array of fantastic places that are perfect for you and your pooch to discover.
Here at Asda Money, we want to help you and your four-legged friend enjoy your next walk, so whether you're in the Scottish Highlands or the south of Cornwall, here are five of our favourite dog walking hotspots in the UK. Whether you've got an excitable pup or a senior companion, you'll be able to find somewhere to suit your needs, from autumn and winter right through to spring and summer.
Rhossili Bay, Wales


If your dog is a fan of the water, then a trip to Rhossili Bay in Wales is a must! Named as one of the best beaches in Europe, Rhossili Bay boasts miles of golden sand, famous landmarks and historic shipwrecks. And, to top it off, dogs are allowed to run free on this beach all year round!
The beach is three miles long, meaning there's so much for your companion to explore. Along the sand, you'll find the mysterious remains of the Helvetia, a shipwreck that was washed to the shore in 1887. If you look out to sea, you'll also spot the small island of Worms Head, historically named 'Wurm' which meant 'dragon' to Viking invaders. It was given this name because of its shape, as it looks quite like a giant sea serpent. If you're lucky, you might even see grey seals lazing on the island's rocks.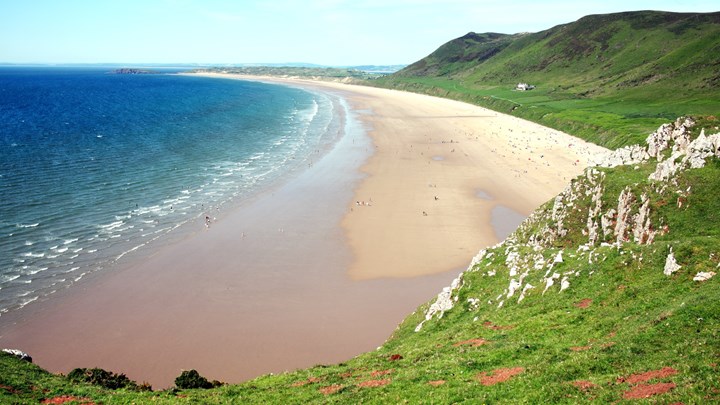 Grizedale Forest, Lake District


The Lake District is perfect for dogs and their owners. Home to mountains, lakes and a variety of diverse landscapes, there's no surprise that it's one of the most popular UK destinations for a holiday with a dog. Located between Lake Windermere and Lake Coniston, Grizedale Forest is one of the best places in the Lake District to take your pooch for a walk, as there are miles and miles of woodland routes and trails to explore.
If you're looking for a challenging route, then Silurian Way is a great place to start. Taking you up one side of a valley and back down the other, this route will guide you to the summit of Carron Crag, the highest point in the forest. As well as offering panoramic views over the forest, you'll also spot an array of fantastic sculptures along the way. There are over 90 sculptures scattered around the woodland, so there's plenty to see whilst your furry friend explores their surroundings. If you're looking for a shorter walk, don't worry, as there are a variety of walking routes to choose from around Grizedale too. There's also a dog-friendly café in the forest, so you can take a well-deserved rest.
Loch Morlich, Scotland


If you want to see a little bit of everything on your dog walk, then Loch Morlich in Scotland is the place to go. This fresh water loch is surrounded by towering trees, picturesque mountains topped with snow, and even fantastic sandy beaches, so there are many different environments for your dog to explore.
The popular walk around the loch is around 3.5 miles long, so should take approximately 2 hours to complete. The route starts at the car park at the far end of the loch, signposted as 'Loch Morlich Water Sports', with walkers following the route using the red marker posts. Follow the winding trail, cross over wooden footbridges, stroll alongside calming streams, and enjoy stunning views in spectacular surroundings. There are also plenty of picnic areas available along the route, offering up the perfect spot for you both to have a rest and take in the sights.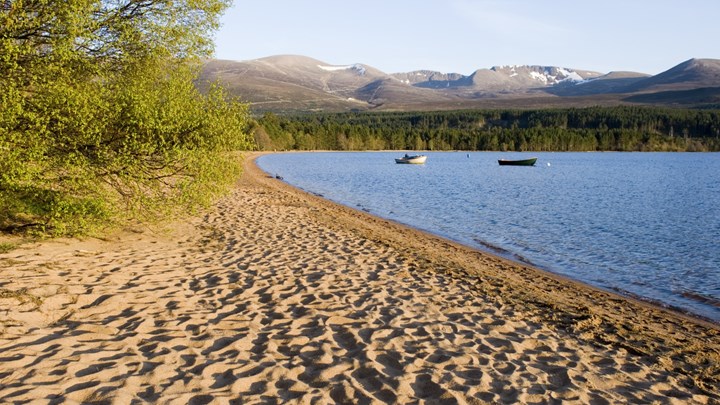 Cardinham Woods, Cornwall


Despite Cornwall being renowned for its spectacular coastline and beaches, the region is also filled with plenty of wonderful woodlands that are ideal for dog walks. One of the most popular with dog-walkers is Cardinham Woods in Bodmin. Well-known for its fantastic walking, cycling and horse riding routes, delve deep into the woods and see what it has to offer.
There are plenty of different walking routes in Cardinham Woods, all varying in length and difficulty. Whether you fancy a gentle 1.5-mile stroll or a steep 4-mile challenge, you'll find a trail to suit you and your pooch. Whichever route you decide to take, stop for a bite to eat and a rest at Woods Café. This idyllic cottage is nestled between the trees, like something out of a fairy-tale, and dogs are more than welcome too. Kids will also love Cardinham Woods, particularly the Gruffalo Trail. This short and easy walk gives children the chance to search for clues and footprints, which will lead them to the Gruffalo. You can buy the Gruffalo Activity Kit from the Woods Café, which includes mini binoculars, a checklist and much more.
Aysgarth Falls, Yorkshire


Located in the heart of the Yorkshire Dales is Aysgarth Falls, three powerful waterfalls surrounded by impressive woodland and forest. The area provided a dramatic backdrop for the film 'Robin Hood: Prince of Thieves', and was even painted by William Turner after visiting in 1816. It's not hard to see why people still come here to relax.
There are plenty of walking paths and trails around the waterfalls too, which are perfect for you and your pooch to explore. The best place to start is the National Park Centre. Whether you want to walk around the woodlands, or fancy a stroll up to one of the lovely surrounding villages, such as Carperby and Aysgarth, you'll be able to find a walk to suit you. Along the way, you might even catch a glimpse of a variety of wildlife, including roe deer and dormice. If you can, try and visit after a day of heavy rainfall, as you'll get to see the waterfalls at their best. And, don't forget to pack a towel for your furry friend for after the walk too!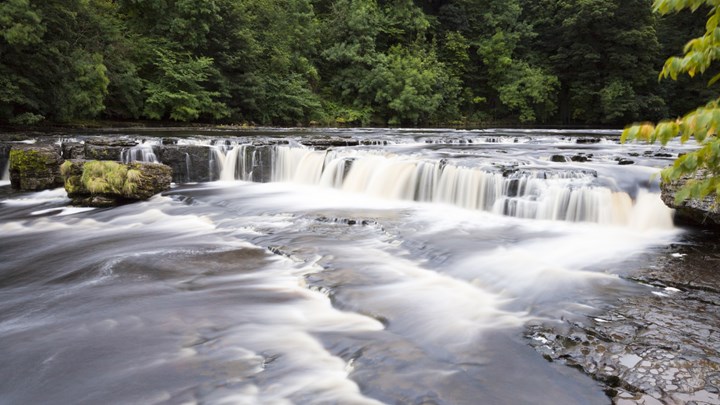 No matter where you're walking with your four-legged friends, it's important to have suitable pet insurance, so that they're covered for any accidents or injuries. Here at Asda Money we have a range of pet insurance cover types available. Find out more about Asda Money Pet Insurance here.