Understanding the Impact of Lockdown on Your Pet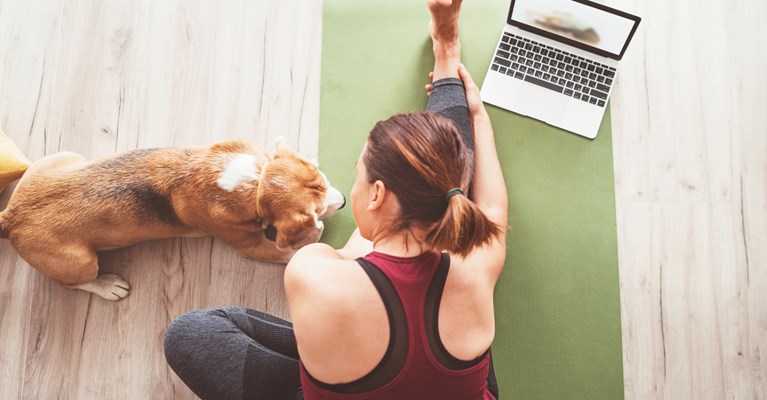 The Coronavirus pandemic of 2020 has taken a toll on just about every part of our lives, disrupting our routines and splitting us up from our loved ones. It's hit our physical, and mental, wellbeing and caused a great deal of upheaval over months of lockdown.
For many, it's easy to forget but that upheaval has also had an effect on the other, sometimes overlooked, members of our households. Our pets may not be able to tell us how they feel about the disruption in their everyday lives but there's a good chance that the pandemic may be well be causing them some distress.
Even if you haven't noticed anything in particular wrong with your animal companions, it's always good to do a quick check up to make sure they're living the stress-free lives they deserve. We've created a list for you to work through with your dogs or cats to help make sure they are as comfortable, as reassured and as happy as they can be in these uncertain times.
1. Getting enough exercise

For many animals, exercise is absolutely essential for their physical and mental health. Getting a daily dose of exercise either indoors or outdoors will not only keep a pet from becoming overweight and unhealthy, but it will also keep their brains stimulated to stave off pet mental health issues. This is particularly important for dogs who need daily exercise outdoors, away from their normal environments.
Even during the tightest restrictions, the Government guidelines stated that pet owners were able to leave the house to walk their dogs once a day, but we know this may not be possible for everyone or enough exercise for highly energetic dogs.
Don't worry, there are things you can do in and around the home to help keep them healthy. Simple games such as fetch and hide and seek involve both physical and mental activity. If you've got a garden, you could also try some basic agility exercises with your dog – just be careful to follow safety guidelines if you do so.
We all know how important it is to provide your dog with regular physical exercise, but it is also very important to give them mental exercise too.
If your dog isn't one for game play, why not ditch the food bowl, and make a dinner time food puzzle. All you need is a muffin tin and tennis balls. Pop a treat or dinner biscuits in each hole of the tin, then place a tennis ball on top. Your cat or dog will need to figure out how to manipulate the balls to get to the food.
2. Giving them space

This shouldn't come as surprise to many pet owners who have animals other than dogs, but a great number of pets enjoy having their own space without the constant presence of humans or other animals. The first example that comes to mind is cats, but it also includes a host of other pets that like to be left alone from time-to-time.
During the working from home period, whether we realise it or not, a lot of us have been encroaching on the spaces of our animals who'll use our work lives to get some much needed alone time. This can cause stress in the more solitary animals who like to have time to relax and unwind from our attention.
Try to keep this in mind when you're working from home. It can be tough to distance yourself from the adorable and comforting antics of your animal friends, but it'll pay off for their mental wellbeing.
3. Socialising

Socialising plays a big role in the lives of pets. For some, it's more important than others, especially dogs. Keeping your pooch in contact with other dogs and other people gives it socialising opportunities that are essential to keeping them happy and to stave off boredom and depression. This can include taking your best friends to dog parks, dog walks and other canine events. Remember however, to only do so where and when government regulations allow.
With Coronavirus putting a halt to just about every social gathering we've become so used to attending, our dogs have lost their chance to properly socialise with their pals and because of this our pups may still be feeling the strain of an unsocial life.
To get them back out there, try to organise meetups with other owners when you're able to adhere to government guidelines. Even just a quick walk and a play with a close canine friend can help to boost your dog's mood.
4. Preparing for separation anxiety

Separation anxiety is a big thing for many pets. As we settle into the new normal, so too are our dogs and cats, who'll have come to expect you to be a constant fixture of their lives now that you're working at home.
For a lot of people however, the prospect of returning to working onsite or in an office is looming and that means your pets, who'll have just got used to you being around all the time, will have to start saying goodbye to you again on a regular basis. That can be tough for them, especially if they're of a sociable nature.
Unfortunately, there's no easy way for them to deal with the anxiety they'll feel when you go away. You can try something like counter-conditioning which is training that helps your pet associate being left alone with good feelings.
Those are our tips on how to help keep an eye on your pet's mental and physical health as we deal with the different lockdown phases of the pandemic.
Your pet's good health is essential, and if something happens to them, or if you need to take them to the vet, you'll want to know that you're in the best position to be able to afford the care and treatment they need and deserve. Pet insurance can help you do just that, and our Pet Insurance policies offer a range of cover to suit different budgets and requirements.