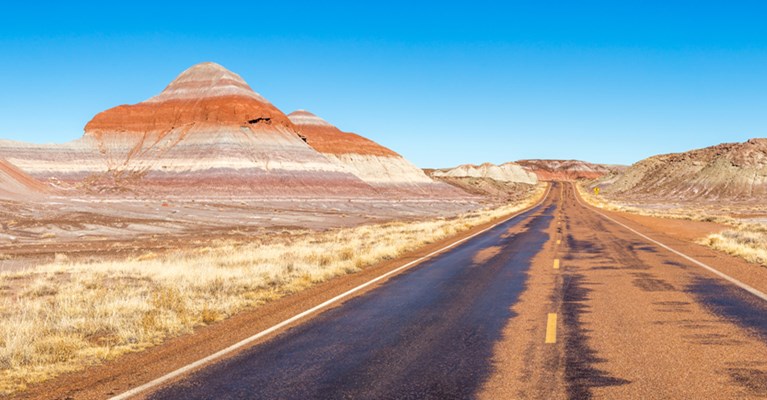 The USA is an incredible nation, but a holiday here can often end up being on the expensive side. A great way to see lots of places in one go is to take a road trip, which could even save you some cash along the way too. If you're feeling adventurous, hiring a camper van or RV means you won't have to worry about paying for accommodation. Or, if that's not your thing, you can hire an ordinary car and stop off at motels and hotels on the route. 
Road tripping across America also enables you to tick off lots of the must-see landmarks. In fact, many of these can be viewed from your car window, which doesn't cost anything at all. Here at Asda Money, we've picked three of the best road trip routes, and the things you can expect to see along your journey. 
Route 66: Chicago, Illinois to Santa Monica, California


Route 66 is arguably the ultimate USA road trip. Built in 1926, this road is a huge part of American culture, and for years it has acted as a symbol for freedom and optimism. Although it was initially over 2,000 miles long, it's decreased slightly over the years due as sections became state roads and private land. However, it's still an epic journey to take.
The start and finish points of this road trip are incredible destinations in themselves. The bustling city of Chicago is full of things to do, from the Art Institute of Chicago, to the amazing architecture on The Magnificent Mile. It's also worth paying a visit to Grant Park, where Route 66 officially starts.
Whist making your way along the route to Santa Monica, you can easily make a short detour to the Grand Canyon. Here, you can marvel at nearly two billion years of the Earth's geological history, and at over 18 miles wide it won't be difficult to miss! Other key landmarks include the Painted Desert, which you'll drive past near the start of your trip, and the iconic Colorado Boulevard Bridge. When you reach the end of the route we recommend getting a few snaps at the "End of the Trail" sign at Santa Monica Pier.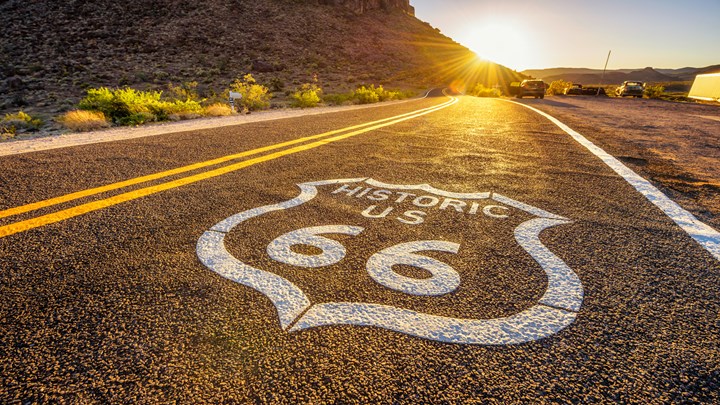 Pacific Coast Highway: San Francisco to San Diego


The Pacific Coast Highway is widely recognised as one of the most scenic drives in the world. Linking the two incredible cities of San Francisco and San Diego, it takes you on a fun-filled tour of West Coast America. The 655 mile adventure can actually be completed in a day, but you're sure to spend more time exploring the stunning coastal and seaside locations along the way.
Start in San Francisco, where you can pass over the iconic Golden Gate bridge, before paying the Golden Gate Park a visit. To really appreciate the West Coast landscape, then the 17-mile drive along Monterey Bay is a must-do. Travel alongside famous golf courses and amazing mansions, and look out for whales in the sea. where you'll pass famous golf courses, mansions, and maybe even spot a few whales in the sea. The beach city of Malibu is equally picture-perfect, and the trip would be incomplete without a quick stop in Los Angeles to take a snap of the Hollywood sign.
A good way to appreciate the beauty of the area along the Pacific Coast Highway is to stop off for a hike at Eden Valley and Arroyo Grande. If you're into your wildlife, then Avila Beach is renowned as a great location to spot birds and seals. The whole route is extremely beautiful, so simply look out of the window and enjoy the views.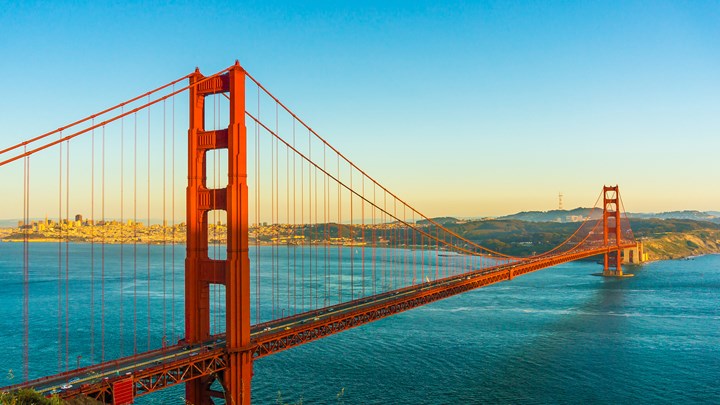 Highway 61: New Orleans to Wyoming, Minnesota


Highway 61 is often referred to as the "Blues Highway" because of its association with Blues music, and is the ideal route if you're looking for some culture along the way. Starting in the iconic New Orleans, many of the stop offs along the route are perfect for catching some of the best live Jazz and Blues music in the world.
The city of Memphis is well worth a visit, and is home to the Stax Museum of American Soul Music. Named after the influential label that managed legends such as Otis Redding and Isaac Hayes, the exhibition includes over 2,000 artefacts, ranging from video footage to original instruments used in recording. Elvis Presley's former home, Graceland, is also a must-visit destination whilst you're in Memphis.
Clarkesdale in Mississippi is an ideal place to stop along the route too, where you're sure to catch some big-name Blues artists. Highway 61 is also near to some great free attractions, such as Devil's Crossroads where the route meets US Route 49. This intersection is extremely famous, and whilst you're there you can get a picture with the iconic three guitar signpost.
Whichever route you end up taking for a road trip in America, don't forget to make sure you have comprehensive travel insurance. This way, you'll be protected in case anything goes wrong, from medical costs, to delayed flights and cancellations.