LGBTQ+ Romantic Holiday Index: The top 50 LGBTQ+-friendly romantic holiday spots ranked
From travel safety to social media shares, find out what countries take the top spot for LGBTQ+ holidaymakers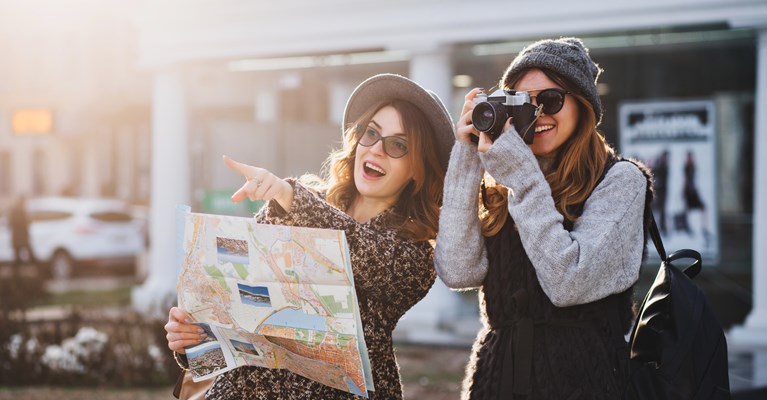 Same-sex marriage may have been legal in the UK for the past decade, but there are still discriminatory laws in place around the world. In fact, in 64 UN member states [1] it is still illegal to be gay making it more difficult for LGBTQ+ couples to travel safely and leaving them forced to consider different factors that heterosexual couples would not usually think about including.
Couples' holidays are a chance to relax, spend some quality time together and make life-long memories, and shouldn't be something that makes you anxious, nervous, or worried for your safety. Some of the biggest cities and the most tropical places around the world are home to lively LGBTQ+ communities and cater to LGBTQ+ couples looking for an adventure or a relaxing romantic getaway. However, with attitudes towards LGBTQ+ rights varied across countries, it can sometimes prove difficult to know where to look.
In fact, according to our brand-new research, nearly 1 in 10 (8 per cent) LGBTQ+ couples wouldn't feel confident finding a honeymoon destination that is LGBTQ+-friendly. Of those surveyed, half (49 per cent) feel frustrated that they must avoid certain countries, while 40 per cent simply feel disappointed. 43 per cent said that when choosing a honeymoon destination, they would want to go somewhere they felt able to show affection in public, but over half (53 per cent) don't feel safe kissing while abroad and 41 per cent won't even hold hands.
That's why we have conducted in-depth research to create an index of the top 50 LGBTQ+ romantic holiday / honeymoon destinations for couples, to take away that added research stress.
To find out the top destinations, we naturally excluded any country where homosexuality is still illegal (an astounding 64 UN member states) and then ranked each remaining country on several factors, including attitudes towards gay marriage, travel safety, how romantic a place is, how 'loved-up' the population feel, and how popular the destination is on social media (it's "shareability" score).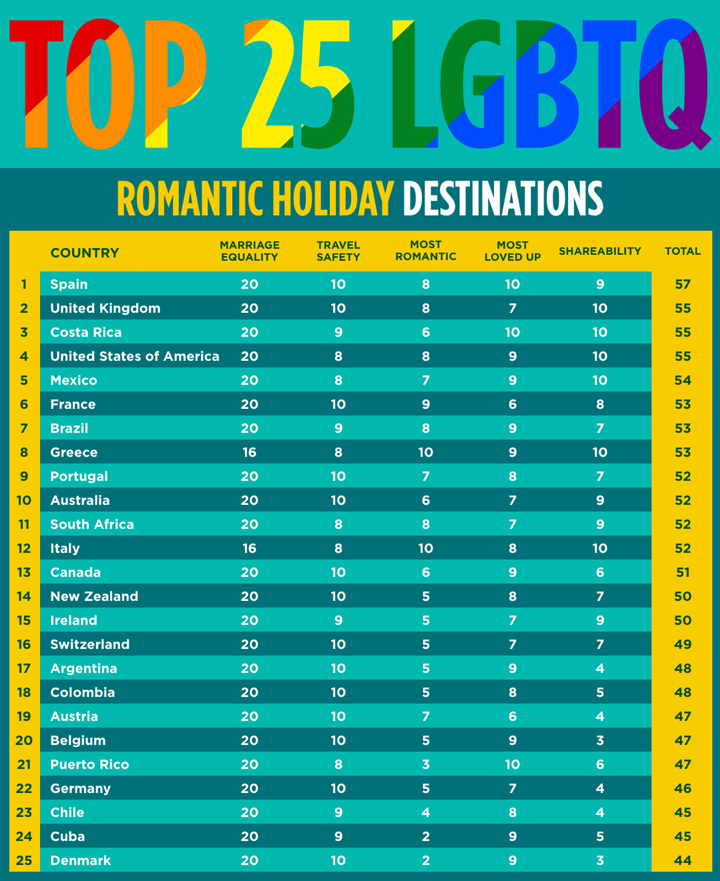 Once all factors were scored and the data collected, Spain was found to be the top country for an LGBTQ+ honeymoon destination, scoring high for marriage equality, travel safety, and being the most loved-up country.
With 325 days of sunshine a year, Spain is known for its warm weather, stunning coastline, and rich culture. It's also home to Barcelona and Madrid, known to have a reputation for being two of the most LGBTQ+-friendly cities in the world.
The top 10 LGBTQ+ honeymoon friendly destinations are:
Spain
United Kingdom
Costa Rica
United States of America
Mexico
France
Brazil
Greece
Portugal
Australia
Coming in second was the United Kingdom, with an equally high score on marriage equality, travel safety and surprisingly, a top score on shareability. The UK hosts some top LGBTQ+ holiday destinations, including many big cities and romantic countryside resorts with large LGBTQ+ communities.
Costa Rica secured the bronze, with a high score in both marriage equality and travel safety, Costa Rica is a country whose attitudes towards LGBTQ+ rights have evolved significantly within the last decade. Known for its incredible national parks and some of the best bio-diversities for animal and nature lovers alike, Costa Rica offers many tailor-made LGBTQ+ trips and gay travel guides and is a top location for an LGBTQ+ romantic getaway or solo travel. It's also one of the most loved-up counties in the world according to the index, with 85 per cent of the population experiencing love every day.
However, it is worth noting that while queer culture is thriving in Costa Rica, the more rural areas tend to be home to people who have strong religious beliefs due to the country's Catholic background. It would be wise to plan your trip around the main tourist areas to ensure a comfortable and enjoyable stay.
The top-scoring country for each continent:
Best country for LGBTQ+ Romantic Holidays in Africa: South Africa
Best country for LGBTQ+ Romantic Holidays in Europe: Spain
Best country for LGBTQ+ Romantic Holidays in North America: United States of America
Best country for LGBTQ+ Romantic Holidays in South America: Costa Rica
Best country for LGBTQ+ Romantic Holidays in Oceania: Australia
The countries that scored top marks for romance were Greece and Italy. With picturesque towns and beautiful beaches perfect for watching the sun go down, both countries host many luxurious hotels to accommodate you during your visit. Many of these are made to create a setting for romance, with a whopping 72% of all hotels in Greece and an even higher 80% of all hotels in Italy labelled as 'romantic'.
Love is in the air in Spain, Costa Rica, Puerto Rico, Cyprus, and Hungary. These countries scored highest for the 'loved up' category and in all five countries over 80% of the population claim they experience love every day.
At the top for "shareability" were the UK, Costa Rica, USA, Mexico, Greece, Italy, and Thailand. These all scored a perfect 10 for the shareability score, meaning each country was posted and viewed the most on both Instagram and TikTok alongside honeymoon hashtags, to find Instagram and TikTok's top romantic destinations. Italy landed the title of top social media shares, with 31,921 hashtags on Instagram and an impressive 16,559,200 views on TikTok.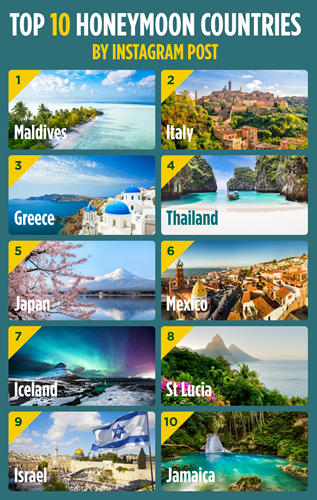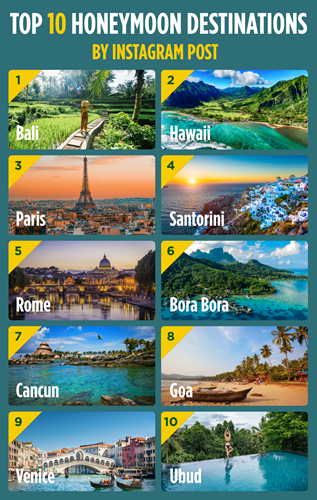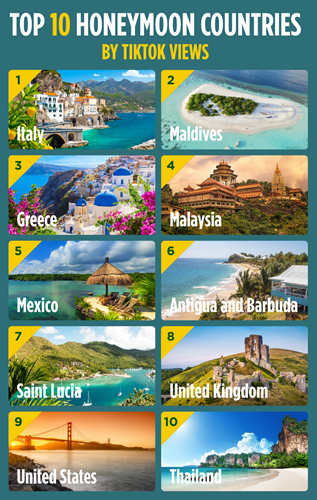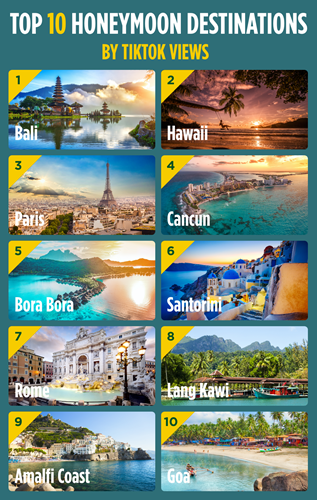 Top of the list on Instagram is the Maldives, with over 134,000 posts, followed by Italy with nearly 32,000. The opposite is true of TikTok, as Italy leads the way with an incredible 16.5 million views, closely followed by the Maldives with 11.9 million.
It's not surprising that the Maldives is the number one destination for Instagram enthusiasts. With its floating pool breakfast trays, long white sandy beaches, crystal clear waters with views of manta rays and the glitter-bomb of stars to light your evening dinner, the Maldives has been a favourite of celebrities and influencers alike for years.
The Maldives being beaten by Italy on Gen Z's favourite social media platform, TikTok, is interesting and matches research conducted by American Express in 2022 that found Italy to be in high demand among younger Millennials and Gen Z. With romantic gondola rides along the Venice canal, vineyards of Tuscany, and ancient cities all to be found just a short train ride from each other, it's not hard to see why.
Road trip honeymoons are also on the rise, and an Italian road trip through long swathes of open countryside and ocean views, stopping intermittently for vineyard tour is the trip of the moment. It's no wonder Charles and Diana chose to take their second honeymoon there.
The top 5 countries for a romantic honeymoon, according to Instagram:
The Maldives (134,006 posts)
Italy (31,921 posts)
Greece (14,790 posts)
Thailand (12,858 posts)
Japan (10,785 posts)
The top 5 countries for a romantic honeymoon, according to TikTok:
Italy (16.5 million views)
The Maldives (11.9 million views)
Greece (8.6 million views)
Malaysia (1.9 million views)
Mexico (1.4 million views)
The top 5 destinations for a romantic honeymoon, according to Instagram:
Bali, Indonesia (121,981 posts)
Hawaii, USA (48,282 posts)
Paris, France (16,314 posts)
Santorini, Greece (9,523 posts)
Rome, Italy (6,097 posts)
The top 5 destinations for a romantic honeymoon, according to TikTok:
Bali, Indonesia (6.9 million views)
Hawaii, USA (5.1 million views)
Paris, France (4.4 million views)
Cancun, Mexico (4.1 million views)
Bora Bora, French Polynesia (2.1 million views)
Our index was supported by a survey of 2,000 Brits which revealed how UK couples feel about getting married and honeymooning abroad, and the difficulties faced by LGBTQ+ couples specifically. The survey found the top 10 ideal honeymoon destinations for Brits were the Maldives (27 per cent), Hawaii (20 per cent) and Barbados (18 per cent), while LGBTQ+ couples specifically would rather jet off to Amsterdam (58 per cent), New York (55 per cent) or Paris (54 per cent).
When asked about the things they want the most from their honeymoon, nearly half of Brits (49 per cent) agree that great food and drink is the number one priority, while 41 per cent simply want somewhere romantic to enjoy each other's company.
Interestingly, 59 per cent of LGBTQ+ respondents are more likely to stick to a city break rather than a tropical honeymoon, as they are concerned they might be judged. Our Honeymoon Index disputes this, as both Costa Rica and Mexico made their way into the top 10, in third and fifth place respectively. Both countries scored full marks for marriage equality, while Costa Rica was ranked 36th in the world for LGBTQ+ travel safety, and Mexico came 28th.  
When asked what places they would most likely choose for a honeymoon destination, 59 per cent of LGBTQ+ couples were more likely to stick to a city break rather than a tropical honeymoon. This showed in the top destinations selected for a honeymoon by LGBTQ+ participants, with Amsterdam topping the location they would feel safest in, followed by New York, Paris, Sydney, and Rome.
TOP 10 GO-TO HONEYMOON DESTINATIONS FOR LGBTQ+ COUPLES
Amsterdam (58%)                                        
New York (55%)                               
Paris (54%)                                                     
Sydney (46%)                                   
Rome (45%)                                     
San Francisco (45%)                        
Sweden (44%)                   
Dublin (42%)                                    
Berlin (42%)                                   
Barcelona (41%)                
Research, tickets, passports, there can be a lot of work and stress that goes into the booking of a holiday, and that's if everything goes smoothly.
It's unlikely there will be any issues, but suitable travel insurance cover can allow you to have peace of mind when enjoying yourself and making memories on your well-deserved holiday. Asda Money offers several travel insurance options to tailor to you and your specific travel needs.
Christian Suen, LGBTQ+ Travel influencer, commented: "For the most part, travelling as an openly gay couple is no different to anyone else, but there are a few things we have to do differently. For instance, we always make sure the hotel we're staying at is LGBTQ+ friendly - I actually recently found out that a lot of websites have this as a search function now. We also always have to stay vigilant, and we always ensure we have travel insurance in place. Not just because it covers medical expenses etc., but because it gives us that extra layer of legal protection if and when necessary.
"As an LGBTQ+ couple, the main thing I look out for with travel insurance is having clarity that same-sex couples count as "dependents" within family bundles, even if they haven't chosen to get married officially or anything like that.
"It's great to see a comprehensive list like this being pulled together, that focuses not just on where LGBTQ+ couples can be safe but also factoring in those romantic elements that you would be looking for from your honeymoon destination. A lot of studies don't do that, negating all the typical aspects of a holiday to simply focus on safety (which, of course, is very important)."
Edward Doherty at Asda Money added: "As a travel insurance provider, we believe that everyone deserves to explore the world without fear of discrimination or prejudice. It's great to see that there are a range of countries, all over the world, that are safe for LGBTQ+ couples to enjoy on their honeymoon, and we're really glad this index can go some way to helping our LGBTQ+ customers find a destination that's right for them. 
"We provide coverage for all travellers including members of the LGBTQ+ community, and our family travel cover is inclusive of parents or guardians in a same-sex relationship or marriage. We understand the unique challenges that LGBTQ+ travellers may face while abroad, and we are committed to providing comprehensive coverage and support.''
Asda is an inclusive organisation that embraces customers and colleagues from all backgrounds and is working with Diversity Role Models to end LGBTQ+ bullying in schools, through inclusion workshops in classrooms across the UK. Having worked with the charity since 2019, the retailer has donated over £300,000 in total.
Find more information about Asda Money's travel insurance options here, or feel free to contact us and one of our agents will be happy to help.
This research of 2,000 Brits was commissioned by Asda Money and conducted by Perspectus Global during May 2023.
[1] New maps show where it's illegal to be LGBTQ+ in 2023: https://www.forbes.com/sites/jamiewareham/2023/04/07/new-maps-show-where-its-illegal-to-be-lgbtq-in-2023/?sh=4552b0927eaa
Methodology
To compile the LGBTQ+ Honeymoon Index, we first restricted our list of countries to those where homosexuality illegal, and then assessed the following factors:
LGBTQ+ Travel Friendly
Marriage Equality
Romance
Loved-up
Social Shareability
For each of the above categories, we scored each country from 1-10 (except marriage equality, which was scored from 1-20, as it has the biggest impact on travellers), and added these scores together in order to get our final LGBTQ+ ranking score, with a total of 60 being available. We then ranked the countries based on their scores.
The full dataset is available upon request.
Sources